This is my monthly mantra. BIG decisions have been laid in front of me. Not the piddly decisions that I rant about from week to week, but life-changing, earth-shattering, big girl decisions. Quite frankly--I'm terrified, but just like my quote says; If your dream aren't scary, they're not big enough! That means these decisions/plans/dreams must be HUGE, right?! I'm so very blessed to have the opportunities that I have in my life, and I need to take full advantage of them. Sometimes life doesn't go the way you planned and it is scary not knowing what the future holds. But I feel like, as long as you trust yourself, work hard, follow your heart and trust in God, everything will be ok. That's what I keep telling myself anyway. That's why I chose this mantra, the moment I read it, I was uplifted and reminded that it's ok to be scared. My plan is to turn these nerves and jitters into power and success for myself and for my family. That means no more sitting on the sidelines! Why would I? I was raised a strong, independent and self-sufficient woman. I hold the power in my hands, it's just what I choose to do with it. Life is all about chasing your dreams and going after what you really want. So I'm going to dive right it!
What would your mantra be?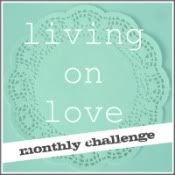 This monthly mantra is brought to you by the Living On Love March Challenge! March's challenge was to come up with a positive and inspiring mantra. How great of an idea is that? Everyone needs encouraging words every now and again. As you can tell by my post, I need a little encouragement. For the rest of the month and on after I will tell myself not to be too worried, after all, you're not dreaming
BIG
if you're not a little scared!
:)
xx,
-Melissa Loren